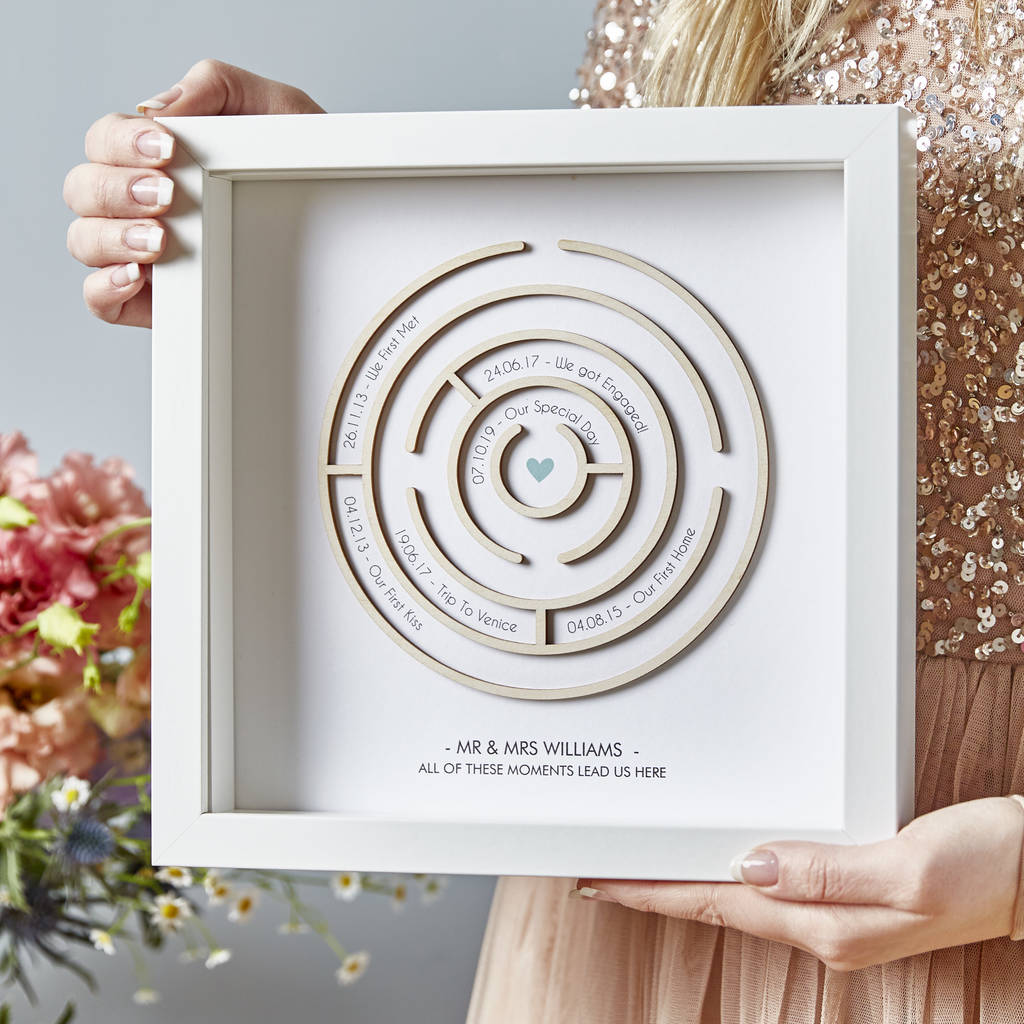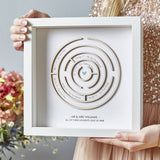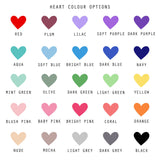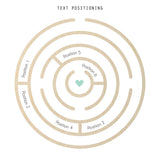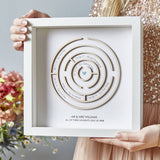 Box Frame - Mixed Media
Wooden Maze Personalised Couples Print
Create a fun piece of art for your home with our Wooden Maze Personalised Couples Print displaying your special memories together.
Travel through the wooden maze past the most memorable days of your lives, a really special way to share all of your favourite days.
These prints are totally personal to you and make a great gift for your anniversary or just a reminder of all the wonderful times spent together so far.
Pick from our range of heart colours for the centre of your print to work perfectly with your interior.
Simply fill in your personalisations and we will design your bespoke Wooden Maze Print ready for you to hang in your home.
You can include up to 6 dates and events, which will be placed around the maze in chronological order from the outside - in. Please refer to our 'text positioning' image and enter each personalisation into the position you would like it to be placed in. You can leave some boxes blank if you do not require the full 6 events. Please keep your events short and sweet like our example print.
These make a thoughtful gift for all occasions, Birthdays, Weddings, Anniversaries, Valentines, Christmas, Mother's Day, Father's Day or a perfect treat for that special friend or family member.
Please Note: Personalisation will be identical to information entered, please ensure all wording is correct when placing your order. We recommend using a similar amount of words for each event as shown in the images for the best result.
Please note: Large Frames are unable to be delivered Next Day or on Saturday Deliveries via the delivery options above. If you would like a quote for a large frame to be delivered to you on an express service, please send us an enquiry before placing your order.
Large Frames - UK only.
made from:
Printed on high quality card with a maze element made from Norwegian Birch Wood.
Finished in a wooden box frame.
dimensions:
Our Wooden Maze Personalised Print is available in two frame sizes:
Medium White Frame - 27cm x 27cm x 6cm
Medium Black Frame - 27cm x 27cm x 6cm
Large Black Frame - 52cm x 52cm x 6cm
Large White Frame - 52cm x 52cm x 6cm