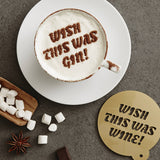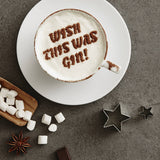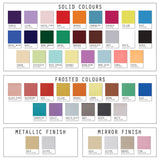 Coffee Stencil
Personalised 'Wish This Was' Hot Chocolate Stencil
Know a hard working, busy friend who is in need of a strong drink, but instead has to make do with hot chocolates & lattes?!
This cute and funny coffee stencil is the perfect personalised gift for those friends that spend long days in the office!
Our hot chocolate stencils are personalised for you right here in Hampshire. We take your exact wording and apply this to our hot chocolate stencils for you in any colour of your choice. Add a quirky comment or funny alcohol related joke!
A brilliant gift for any hot chocolate lover! What would you wish for..?
Great as a gift or home accessory.
Available in a variety of colours, please use the drop down menu to select which colour you would like.
Please Note: Personalisation will be identical to information entered, please ensure all wording is correct when placing your order.
If you have any questions about placing your order or any other questions please do get in touch with us by using the 'Ask The Seller' button above. We'd love to help you and answer any questions which you may have.
made from:
Made from 3mm thick acrylic, these are great and long lasting. Hot chocolate stencils with fewer letters work best and create a bold finish on the top of the drink.
dimensions:
Our hot chocolate stencils measure 9cm across and are 0.3cm thick.
Customer Reviews
Write a Review
Ask a Question