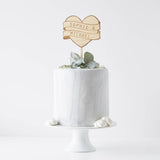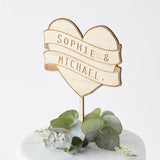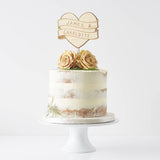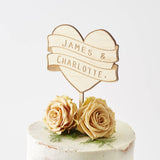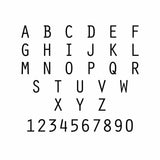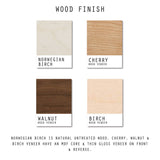 Cake Topper
Personalised Heart Banner Cake Topper
A romantic Personalised Heart Banner Cake Topper is a charming finishing touch to any cake.
A beautiful heart with banner design with space for the special couples names.
Perfect for weddings, engagements or anniversary cakes, and available in a large selection of colours, this cake topper would suit any style of cake.
This romantic cake topper will suit many themes and creates a wonderful eye-catching centre piece to your big day.
made from:
Our cake toppers are made from high quality Norwegian Birch, Birch Wood Veneer, Walnut Wood Veneer or Cherry Wood Veneer if selected.
Care Instructions: Gently clean with warm water before use.
dimensions:
Available in three different sizes:
12cm Wide x 10cm Tall - 10cm Stem
14 cm Wide x 11.5cm Tall - 11cm Stem
15cm Wide x 12.5cm Tall - 12cm Stem
The cake topper in the main photo is made from Birch Wood Veneer and is 14cm Wide.
The size of the Cake is 21cm wide.