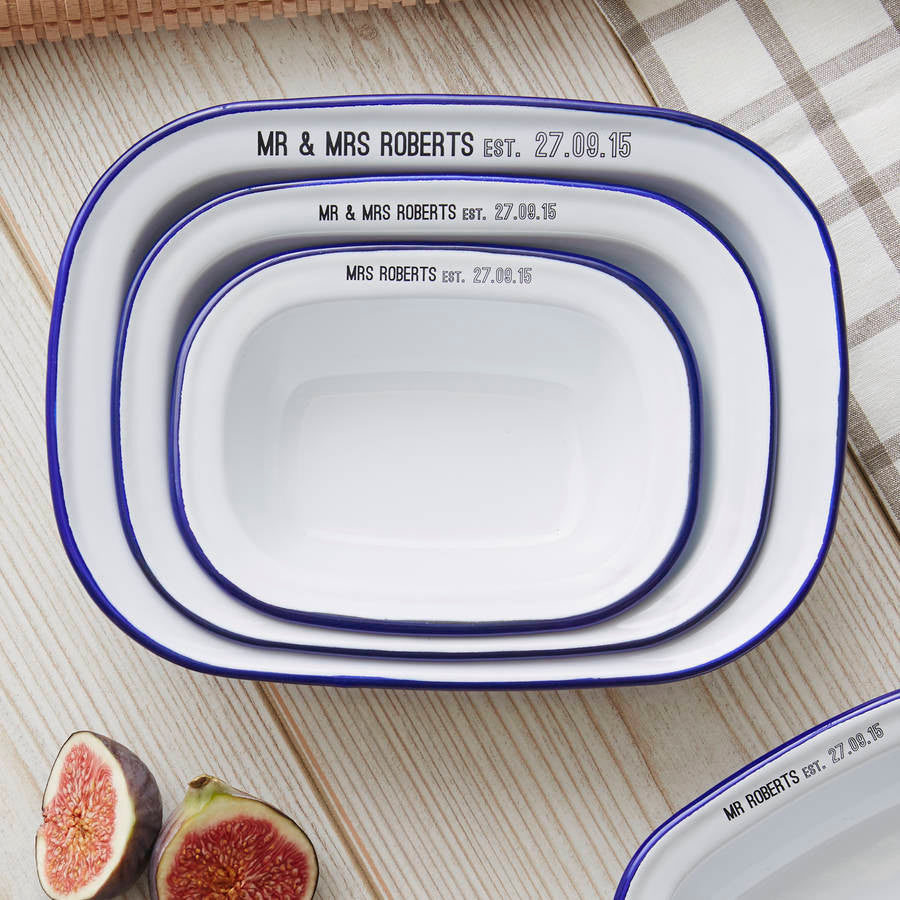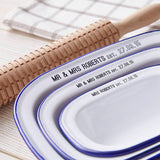 Enamel Pie Dish
Personalised Enamel Pie Dish Wedding Gift Set
A wonderful personalised wedding enamel pie dish set. A thoughtful present for a special couple on their anniversary, wedding or engagement!
A beautiful personalised enamel pie dish set, great as a unique present for the happy couple! A lovely customised gift that can be kept for years to come. These dishes are perfect to cook with and add a classic British feel to homemade pies.
Our personalised enamel pie dishes are also great to use as serving dishes for BBQs, roast dinners and more!
To personalise your enamel pie dishes simply enter your details into the personalisation boxes provided. Our in house design team will transform your personalisation into the design.
These gorgeous personalised enamel pie dishes are made from steel and coated in bright white enamel paint. Each dish is then hand-finished with blue paint around the rim of the dish. Each personalised pie dish is therefore totally individual in its finish, we love this unique charm. We individually engrave each enamel dish. As these dishes are not printed this engraved detailing will stand the test of time. 
made from:
Our personalised enamel pie dishes are made from steel and enamel coating - engraved personalised design.
Care Instructions: Clean with warm water before use, dishwasher safe.
dimensions:
Small dish - 16cm x 12cm x 4cm
Medium dish - 20cm x 14.5cm x 5cm
Large dish - 24cm x 17.5cm x 6cm
Set includes two small dishes personalised with a Mr & Mrs Surname and one medium & one large dishes, each personalised with Mr & Mrs Surname Est. Date.
Customer Reviews
Write a Review
Ask a Question
Personalised Enamel Pie Dish Wedding Gift Set
Very pretty, but saying it's a pie dish is a little misleading at face value because it's standard pie capacity sized (readers will naturally make the size comparison). Don't regret the purchase and should have read the dimensions a little closer rather than skimming through description.
Personalised Enamel Pie Dish Wedding Gift Set