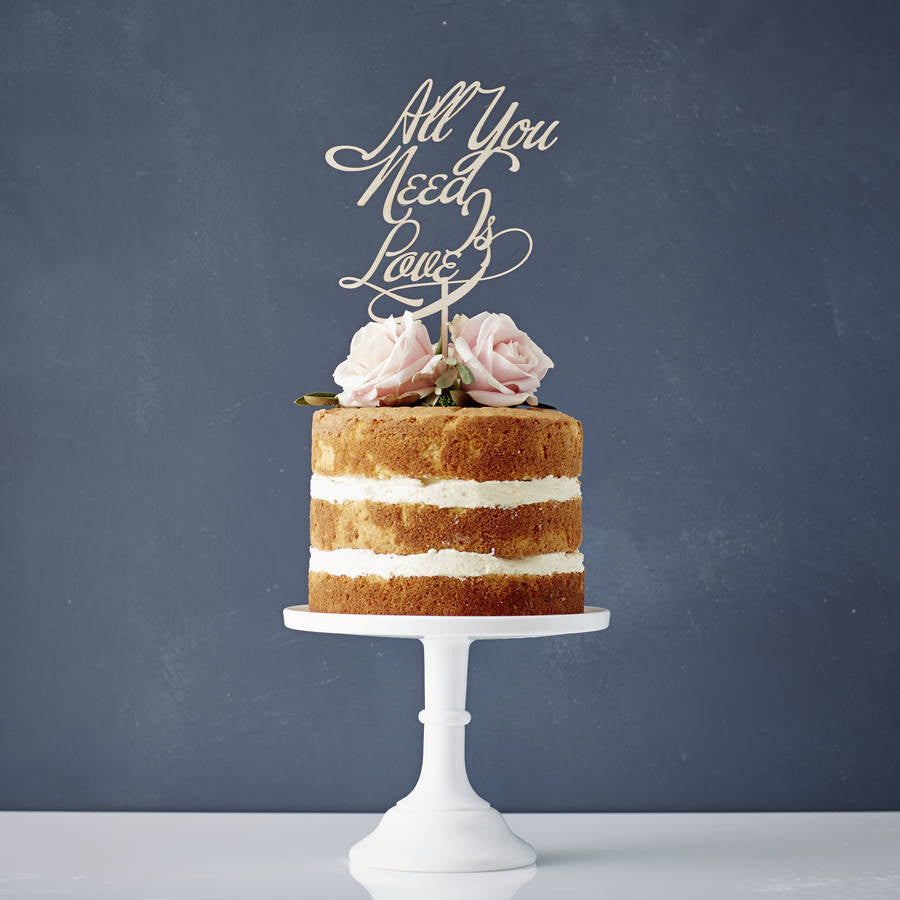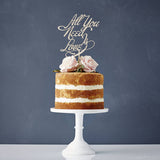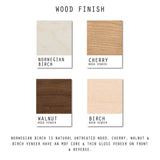 Cake Topper
Elegant All You Need Is Love Wooden Wedding Cake Topper
A classy 'All you need is love' wooden wedding cake topper. A romantic finishing touch to beautiful wedding cakes. Featuring a beautiful, elegant type.
Our 'All you need is love' wooden wedding cake topper is a lovely accessory for beautiful wedding cakes! Also perfect for anniversary and engagement parties.
Available in five different sizes to suit all cakes! These cake toppers really are a lovely finishing touch.
Simply add to the top of your cake and transform your cake immediately! Our cake toppers are perfect for all occasions.
If your not sure which size or style would work for your cake please get in touch as we would love to help.
Each cake topper can be positioned using the stem to either sit flush with your cake or to hover above any decoration, as shown in our photography. To adjust the positioning of the topper simply slide further into your cake.
made from:
Our toppers are made from quality materials and are made to last, they can be used many times or if designed for a special occasion they can be kept as a special keepsake or momento long after your delicious cake has been eaten.
Expertly designed & laser cut from 3mm norwegian birch wood, cherry wood, walnut wood or birch wood.
Care Instructions: Gently clean with warm water before use
dimensions:
Available in 5 Topper Sizes: [Width x Height]
11cm x 11.5cm - 9cm Stem
12.5cm x 13cm - 10cm Stem
14cm x 14.5cm - 11cm Stem
15.5cm x 16cm - 12cm Stem
17cm x 18cm - 13cm Stem
Alternate stem size can be requested. Please get in touch for further details
Example Shown is a 23cm Wide & 13cm Tall Cake - Cake Topper is Norwegian Birch in 17cm x 18cm with 13cm Stem