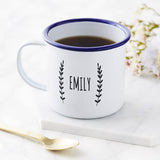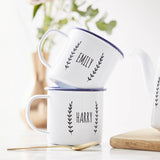 Enamel Mug
Couples Laurel Personalised Enamel Mug
A wonderful couples laurel personalised enamel mug, a special gift for the happy couple! A beautiful personalised botanical mug set.
These gorgeous couples laurel personalised enamel mugs feature a name surrounded by laurels. These match our beautiful teapots and would complete the set!
Our enamel mugs are made from steel and coated in bright white enamel paint. Each mug is then hand-finished with blue paint around the rim of the mug. Each personalised mug is therefore totally individual in its finish, we love this unique charm.
We then individually engrave each enamel mug. As these mugs are not printed this engraved detailing will stand the test of time.
To order, please select the number of mugs required. Then to personalise your enamel mug(s) simply enter your chosen name(s) into the personalisation box, separating multiples with a comma. We can't wait to engrave your personalised enamel mug.
made from:
Our personalised enamel mugs are made from steel and enamel coating - engraved personalised design.
Care Instructions: Once received please clean with warm water before use, Our personalised enamel mugs are dishwasher safe.
dimensions:
8cm tall and 8cm diameter.
Customer Reviews
Write a Review
Ask a Question
Couples Laurel Personalised Enamel Mug
This came just in time for Christmas and was a wonderful, unique, and high-quality gift for my secret santa who enjoys drinking tea AND loves to camp. Thanks for your great work!
12/27/2016
justinejannucci
Couples Laurel Personalised Enamel Mug
FAST! Carefully packed and beautifully designed.