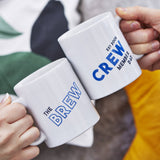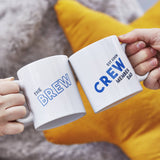 Ceramic Mug
Brew Crew Personalised Mug Set
A fun Personalised Brew Crew Mug Set, a super cute gift for your dad this Father's Day.
This lovely gift contains a set of two mugs that can be personalised with the 'Brew Crew' members names. The perfect gift for the dad that loves a brew.
In our fun blue font add yours and your dad's names to create your own 'Brew Crew' mug set.
Please Note: Personalisation will be exactly as Entered, please double check your personalisation when placing your order.
made from:
White ceramic mug.
dimensions:
Adult Mug - 9cm tall and 8cm diameter.